<<<< Click on LOGO to see larger version
Charles Taylor – a Miracle in Bay St. Louis
Story posted June 30, 2006
Some notes from Alan:
The first time I read this story was on June 29, 2006 at about 7 in the morning, after receiving it from Fran. It occurs to me that it is 10 months after Katrina, and yet a chill moves down my spine as I read Charles' words. I was safe in Minnesota when Katrina struck, but plenty worried about the outcome of the storm due to family. When Charles notes that the water outside the house was much higher than inside, I imagine the fear that I would have in that situation. Would the house collapse? There is no where to go. Then I think of how many times this tale was told throughout Mississippi and how not all of them had a happy ending.
Fran has sent her son one of the MGC Revival CD's, and that was also fresh in my mind as I read the story. As with the Waveland PD, here was Charles "Trapped inside with nowhere to go". And in the storm aftermath, a FEMA Blues line "Got me no Shoes", as Charles states ", "I felt absolutely worthless covered in muck, no shoes, a pulling a little red wagon down the street. That's a weird feeling." And take note of the family's Anderson Cooper meeting, and we have validation of the many comments I have heard about the sincerity of Mr. Cooper's concern for the Mississippi Gulf Coast. And Brittany sums up very well the extent of the devastation:
Brittany lost all of her teen moments. "It was my life," she said. "Now I've lost all of these memories. Girls like to go back to pictures. 'Oh, Yeah.' I remember that,' we would say. But now I can't do that."
We really appreciate this story being shared, and wish the best for Charles and family as they work on their recovery. We have Katrina, which destroyed not only homes and belongings, but jobs and memories. It literally created a depression era on the coast with the economy snatched away in a heartbeat. It will recover, it is recovering. There is hope along with the signs of recovery.
Below are some words from Fran, and then the story.
From Fran:
Dear Alan,
I had saved this on my computer. It is the story of my son Charles and his family in Bay St Louis. Wondered if you would like to add to the Survivor stories. It comes from The Bamberg Advertiser Herald on Sept 14, 2005. I didn't know how to post on your website.
I hope if the picture does not auto load, your can click on the taylor.jpg and see them.
They have received no insurance. 2,300 from FEMA and then 5,200 and have been turned down for an SBA loan even though Charles still has his job. Dara's jobs are gone. Charles is working about half as much pre-Katrina. Still he wanted to go "home."
He stayed in SC about two weeks after Katrina. He was offered four very good jobs and the loan indefinitely of two houses. He wanted to go back to BSL. SC is not his home now, even though he was born and raised here.
He seemed so uncomfortable here with power, phone, water, gas, vehicles and fully stocked stores.
He is truly a miracle and each time I read this article in his own words, I know what a miracle he is.
Fran
Charles Taylor's Katrina experience was featured in the Bamberg Advertiser Herald on Sept 14, 2005. It was a harrowing experience.
Jerry Durgan - Staff Writer
With the help of family, friends and strangers, the son and family of Bamberg's Fire Chief Timmy Taylor and wife Frances lived through the horrible tragedy of Hurricane Katrina in Louisiana. The family lived in Bay St. Louis, Miss., the site of landfall for hurricane Katrina.
Bay St. Louis is situated on the Bay of Saint Louis, which empties into the Mississippi Sound. Before Hurricane Katrina, people of Bay St. Louis, or "the Bay" as it is commonly referred to, were almost all educated and middle-class. The town was notable for being the highest point on the entire Gulf of Mexico.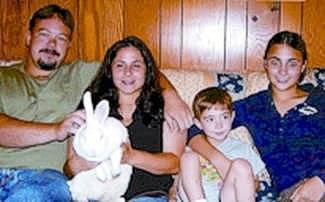 Charles Taylor, 33, and his wife, Dara, and their children Bryton and Brittany, and bunny "AI" are safe at the home of Charles' parents in Bamberg after a "harrowing experience" in the aftermath of Hurricane Katrina.
Charles, Dara and Brittany relate an experience that is almost a film reel of ingenuity, heroism, struggles and kindness in the heart of chaos.
Hurricane Katrina was the third most intense hurricane to hit the United States. Early on August 29 the eye-walls of Katrina grazed New Orleans and made landfall in Bay St. Louis, Miss.
Soon after Katrina made landfall, Bamberg Fire Chief Timmy Taylor, and his wife, Frances, believed their son and his family may have perished when Katrina slammed into their Bay St. Louis, Miss. home Monday.
"We put them in God's hands," Frances Taylor said. What the Taylors didn't know at the time is that their son, Charles, 33, had sent his wife, Dara, and their children to a safe shelter while he stayed behind to board up their home.
Charles' wife and children left before the storm hit and found a shelter at a friend's home away from the direct hit of the storm.
When the hurricane struck, Charles hunkered down in the bathtub to ride out the storm. But that was no protection from the historic winds and storm surge that ravaged the Mississippi coast.
"Like Camille," Charles recalls, "I thought we might get a foot of water up the street (where they live)."
"I looked out of the window," he said, and went out to secure his boat parked on its trailer. "As a joke, I put the anchor on a rope out of my boat and into the yard," to secure it from the winds that were beginning to build. "I went back into the house to stay there and then the wind really began to howl. I looked out to see my boat moving out of my yard and into a neighbor's yard, went back out and pushed my boat back into my yard and tightly secured the anchor."
But after he returned to the inside of his home "the wind really began to howl. You could see the pressure on my barometer dropping, getting lower and lower."
The barometric pressure in the storm was the fourth lowest on record. And also for it to hit the United States it probably was the — in the top five or six as far as strength goes — 918 millibars. To put it in perspective with Andrew, for instance, Andrew was 921 millibars.
"They kept saying (on his portable radio) that the storm was coming right at me. That was a bad feeling," he said. "That's when I started thinking that I messed up. I made a bad mistake."
Charles then got into the bathtub and put a mattress over him to ride out the storm. "I stayed there for a while, thinking that my house was going to come apart," he said, "but then, for some reason, I got back up and looked out the window and saw water about two feet deep coming up the street. I remember thinking, this ain't nothing."
But then as he watched, minutes later, it was up to the bumper of his truck and only minutes more and it was up to the hood of his truck.
"Water began pouring in through the door," he said, "and then the baseboard started coming loose and water was shooting up through the baseboards. I looked outside and the water level was much higher outside than inside. I'm thinking, that the house is going to be crushed. It gets higher and higher and then the door busts open, flying across the room on a wave of water. The whole house just filled up."
During the height of the storm Frances was able to talk with Charles by telephone. "I could hear the shriek of the storm outside their home," she said. "I could hear windows shattering. It was a horrible feeling. We just knew that Charles was gone."
As the water rushed in, Charles swam out to find "somewhere to go." "I found my neighbor's boat, a 21 foot AquaSport, still sitting on its trailer, the trailer trying to float up, so I got hold of a rope and tied it onto the electric meter.
"I tried to hold the boat against the house while the wind blew stronger and stronger, pieces of tin and trash wrapping around the bow and then blowing off down the street. I tried to find the keys or tools so I could get the boat started but there were none. The only thing I knew to do was to just keep hanging on. Then the boat started to float up as I watched the water go over the top of my truck, ladders and all." he said.
"The neighbors behind me had a big U-Haul in the yard filled with furniture. It was picked up and started to float away."
Charles stayed in the neighbor's boat, hanging on, when the wind started to die down and the water level began to drop.
"I thought of all of the stuff in my house that might float way when I saw a piece of plywood in the water." He grabbed it and swam to his own home. "I got it inside and wedged it against the open front door, hoping that this would keep anything from floating out." By then the water began to drain from the house. "It just drained all the way out."
He had ridden through the eye of the storm. "I knew that I'd been through a hurricane," he said, and began to worry about his family. "I didn't know what had happened to them. I got on a bicycle I found in the yard and started peddling down the street in the mud and the muck and made it to the main road to find a way to go to them, looking for someplace, maybe a police station."
But by then the wind began to pick up again. "I don't know where I was going," he said, "so I started riding down the railroad tracks and the wind just pushed me along. I stopped to check on my old landlord, an elderly couple. I thought for sure I'd find them dead. But when I knocked on the door, much to my surprise, they were there, just as if nothing had happened. They were just the same old way. Happy. She'd already mopped up the water and cleaned up."
"There was a big school just in front of their home," Dara said. "The school protected them from the brunt of the storm. But they got about a foot of water in their home."
"So I just stayed there and slept on the floor for about an hour," Charles said. Then Charles left and went to the Sheriff's Office for help but they couldn't do anything either. "The couldn't even talk to each other on the radio, and of course the telephones and electricity were out. Their cars were all gone. They were as helpless as I was. They told me where there was an EOC (Emergency Center), but they were helpless, too. They couldn't even set up emergency antennas because of the winds. But I stayed there until about midnight. I finally gave up trying to get a word out or in, so went back to Ms. Archies (the ex-landlord). Trees were down everywhere."
Charles stayed there for the rest of the night, sleeping and sitting in their front door "because there were people wandering about with flashlights. I just stayed there to make sure that no one would come in after them."
He left the next day back to his home to get as many of his belonging as he could before the looters got there. He got on his bicycle, tying a little red wagon to it as a trailer. He managed to save a few precious things and loaded the wagon down. But when he got ready to leave, the bicycle had a flat tire. Pulling the red wagon by hand to go back to Ms. Archies, "I felt absolutely worthless covered in muck, no shoes, a pulling a little red wagon down the street. That's a weird feeling."
While Charles was attempting to salvage what he could and attempting to get in touch with his family, Dara and the children were having their own set of problems in the shelter.
"We road out the storm across the Interstate at a home of a friend of ours, John Goodin, in his storm shelter," Dara said. "All of a sudden we knew we'd be without power. It took two days before we found out the devastation in Bay St. Louis. But we found out that we could get back through the back roads so John took it on himself to find Charles and some other people that we knew. At this point we didn't know if Charles was alive or dead."
However, Charles is a survivor. He went to the beach (on Bay St. Louis) thinking that he might find someone that had some information. "I met some people who'd made it off the highway so I knew there was a way in and a way out," he explained. "I just stayed there wandering around waiting for someone with a car when someone called my name. It was John."
Reunited, Charles and John started looking for other people they knew, climbing over debris and literally wandering around a "war zone." "We were walking over roofs of peoples houses, board walks, sticks and limbs and pieces of homes."
They stayed there until it "started to get hot," Charles recalls. "I took an old rag and rinsed it out in what I thought was relatively clean water and wrapped it around my neck. Later that day my neck started burning and blistering up and turning red. John's legs, too, were blistering and turning red." Charles seems to think that it was probably jelly fish that had caused the burning and blistering. Safely back at the shelter they began to assess their situation.
"Thank God the children were not in that," Dara said. "Everything is gone and your stuck there (at the shelter), so now it becomes, okay, we have supplies, but now that we have more survivors (they brought others, too, they found) we have to find some other means."
Listening for some kind of information, "the radio is telling you where to go for distribution sites, but the information is wrong. FEMA is down here, they were saying. We went to five distribution sites but not one of them had anything. One of the sites where they announced had ran out we decided to check anyway. When we got there it turned out that they had water and ice, and long lines. But they had it there."
Timmy and Frances had not heard a word about their son or daughter-in law or their grandchildren, but on Tuesday, when the phone rang at 10 p.m., they learned that God had answered their prayers for their son and his family. "The phone rang and I heard, 'Hey, Ma,'" Mrs. Taylor said. "I said, 'Thank you, God.'"
CNN had a role in helping the Taylors through their ordeal. "When Charles and I went back to our home, there were some guys from Mobile trying to get to a home, I'm not sure if it was their home or someone else's," Dara said. "But because of the slime and mud on the roads, they slid off the road and down into a ditch. They couldn't get out and we couldn't find any help because there were absolutely no cars around. But then we see this car about a half-mile down the road, so one of the guys runs there. The car then came up to us and it turns out that it was the CNN reporter, Anderson Cooper and his crew.
"At the time we didn't know who he was, but he was very kind and very respectful, shaking our hands. He told us that he had to go report the news, 'but this is what I'll do,' he explained to us. 'The National Guard is right there where we're going. I'll see if they can come to help.' Either way, he explained to us, 'my driver will come back to see what we can do to help.' It wasn't ten minutes, that the driver returns and we get the car out of the ditch. We were all wisecracking with them when this fellow explained that they were from Chicago. Jokingly we responded with 'Well, you had to come from up North to see lovely old Mississippi and we didn't even clean up the place for you.' He then just whipped out all of this food and cold, cold water. 'What do you want?' He asked, opening the door. 'Please take what you want. I can't even look at all of this without thinking what you've been through.' They gave us this big old sausage, MREs, baby wipes, and lots and lots of cold water. It was wonderful.
"Actually, I didn't even know that it was Anderson Cooper until I was watching TV later. They were so nice and so courteous."
A small community only about five miles from Bay St. Louis, Waveland, with a population of 6,674, on the coast of Mississippi was virtually destroyed by the effects of Katrina. Now, days after Hurricane Katrina hurled a massive wall of water through the town, there seems to be little left behind besides crushed homes and a sea of mud.
Daughter Brittany said that "it was kind' a scary. It was kind' a shocking. Camille hit in the 60s and not a lot of people left and so a lot of people died. 'You're not listening,' she seemed to be speaking to the survivors of Katrina, 'You're not listening to the news. They're saying that it's a category 5 and it's going to be worse (than Camille). But I'm sorry, people, use common sense.'"
Dara responded. "We were not expecting the water ... it went over ten miles inland. But she's right, there were people who said, 'well, okay,' here's Camille, I can handle that.' Common sense was definitely not there. Everyone thought they were ready, but no one was ready for this."
Brittany lost all of her teen moments. "It was my life," she said. "Now I've lost all of these memories. Girls like to go back to pictures. 'Oh, Yeah.' I remember that,' we would say. But now I can't do that."
Brittany collected all of the Harry Potter books, and she lost them all in the aftermath flood. "Before we evacuated, I covered my book case with plastic bags to protect them," she said. "But when we got back to the house, the book case, made of artificial wood, had disintegrated and pieces were all over the floor and laying down on the floor. Everything was down in the muck and mud."
The consequent humanitarian crisis appears to have been deepened by the general failure of the New Orleans levee system, and by what are widely regarded as shortcomings in the disaster response by many levels of government. Katrina is believed to have killed thousands of people, and is known to have displaced more than one million — a humanitarian crisis on a scale unseen in the U.S. since the Great Depression.
The Taylors spent much of their time last week purchasing new clothing for Charles' family, contacting mortgage companies and insurance companies and dealing with "mounds of paperwork."
"Everyone here (in Bamberg) has been so nice to us," Dara said. "I can't begin to express my appreciation. They've been so very, very kind."
"When we came here," Charles said, "the people here have taken care of us. We got medical care. We've been looked at. We got our shots. Everyone has been great."
They had no flood insurance "because we felt we wouldn't need it," Charles said. "It's really frustrating."
The mortgage company told them that they could only defer the payments on their home for three months, and in three months will have to pay the back payments as well. With no income that's going to be virtually impossible.
The Taylors have their life and what few possessions they could take away. They have Timmy and Frances. "That's a blessing," Dara said. "But now what do we do?"